The working principle of single-acting cylinders are to transfer hydraulic fluids or an output force in one direction only. Within the cylinder, the piston rod can push outwards but cannot pull back, therefore requiring a force in the opposite direction to return the rod back to its original position.
A double-acting hydraulic cylinder has a port at each end, supplied with hydraulic fluid for both the retraction and extension of the piston. A double-acting cylinder is used where an external force is not available to retract the piston or it can be used where high force is required in both directions of travel.
Telescopic cylinders are used when an application requires a compact retracted dimension, but needs a longer stroke. These cylinders are generally single acting and are available in two to five stages. Common mounting options for telescopic cylinders are trunnion and cross-tube.
Tie-rod cylinders are most often used in industrial applications. They use high strength, threaded steel rods and nuts to hold square or rectangular end caps to each end of the cylinder barrel. Seals are placed between the barrel and end cap to prevent leakage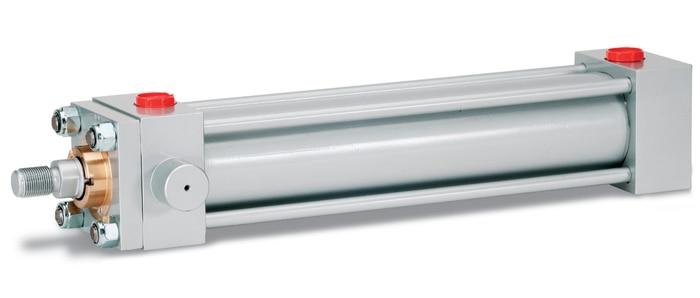 Welded hydraulic cylinders have no tie rods. Instead, the barrel is welded directly to the end caps and the ports are welded to the barrel. The front rod gland is generally bolted or threaded into the cylinder barrel, which allows the piston rod assembly and the rod seals to be removed for service.
Mill – Type are cylinders designed to fill a need for a more durable, more reliable product to reduce down-time and maintenance costs.
Trunnion mounted cylinders are heavy duty pivoting cylinders with pintles mounted to the head, cap or intermediate position. Although superior to clevis or pivot mounted cylinders, they may still require stop tubes in long stroke applications.